It can seem confusing to replace a fuse and it can be dangerous to many if not tried before. Here, you will get a step-by-step guide on how to change the fuse easily in your own home, depending on whether you have a new or an old electrical panel.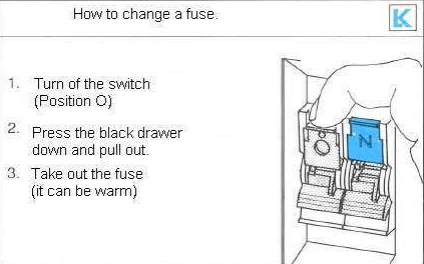 FILL OUT THE FORM BELOW AND WE WILL REACH OUT
How to replace the fuse - and why it is important
The fuses in the electrical panel in your home are of utmost importance. They act as an additional security by controlling how much stress is applied to the wirings and installations. Without fuses, it could cause too much heat which results in an overload, which, in the worst case, could cause a fire. When a fuse has blown, it is a sign that there has been an overload or a short circuit in your electrical installation.
When you replace the fuse, it is very important that the new fuse has the same ampere as before. Higher amperes do not allow the fuse to protect optimally, which can result in an electrical fire.
Change fuse in an old or new electrical panel
When you need to replace a fuse there is a difference between whether you have an old or a new electrical panel. Read more about it below.
1. Make sure to turn off the power by turning off the main circuit breaker on the electrical panel in your home.
2. Identify the blown fuse. When having an old electrical panel, the blown fuse is usually missing a piece of metal.
3. Once the blown fuse and the group it belongs to is identified, make sure to unplug all electrical appliances and chargers from the sockets in the affected group.
4. Change fuse in fuse box. Make sure that the new fuse has the same size and ampere, neither smaller or larger.
5. Finally, turn the main circuit back on again.
The vast majority of new electrical panels are built with automatic fuses, which can not be changed easily. It is therefore important that you call an electrician if the circuit breaker is defective or damaged.
FILL OUT THE FORM BELOW AND WE WILL REACH OUT